Plant-Based Groceries Made Cheap and Easy – Vegan Muscle and Fitness
August 27, 2018

|

Breakfast, lunch, Main Dish, plant based, Plant-Based Groceries, Plant-Based Hacks, plant-based nutrition, Salad, vegan, weight loss, whole foods, workout

|

No Comments

|
[ad_1]

Welcome to the details behind my earlier post: How We Saved 7000 Annually on Our Plant-Based Grocery Bill! In that post, I talked about the year we spent tracking our plant-based groceries and how we've figured out which stores and strategies work to keep us eating a very nutrient dense diet that doesn't break the bank.
While the linked post above shares the big-picture idea of how we eat an abundance of plant-based foods pretty cheaply for a family of four. But based on some comments, I know we need to clarify:
Where our food spending goes
What we actually eat
How we eat the same foods within 1 week but still get a wide variety of plant foods overall
First, I actually entered all of our spending last week and categorized it: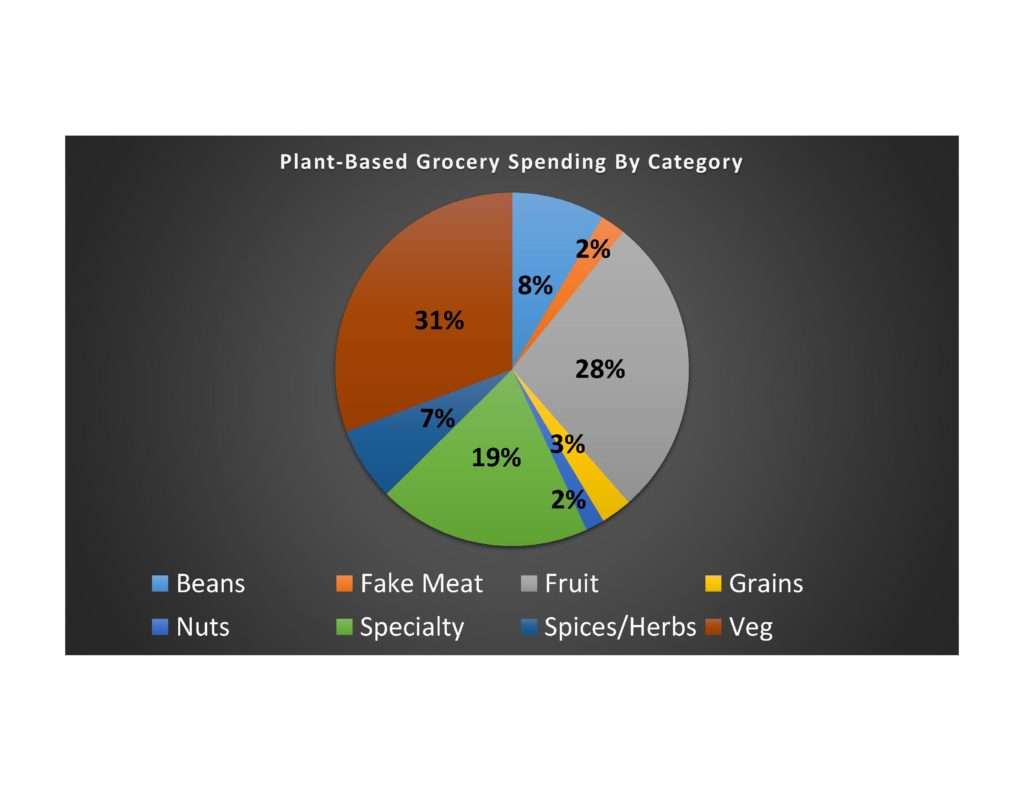 Here's a link to the actual spreadsheet with items listed if you're that curious!
So about 60% of our spending is on fruits and vegetables, 30% on specialty items like a dark chocolate bar, or 2 bottles of kombucha.  Of the 90 total items, about 13 were those higher priced specialty items including the single package of fake meat. A big money saver for us is that we eat very simply overall. Not much is spent on whole grains and beans, in spite of the fact that we eat a lot of them, because those are dirt cheap.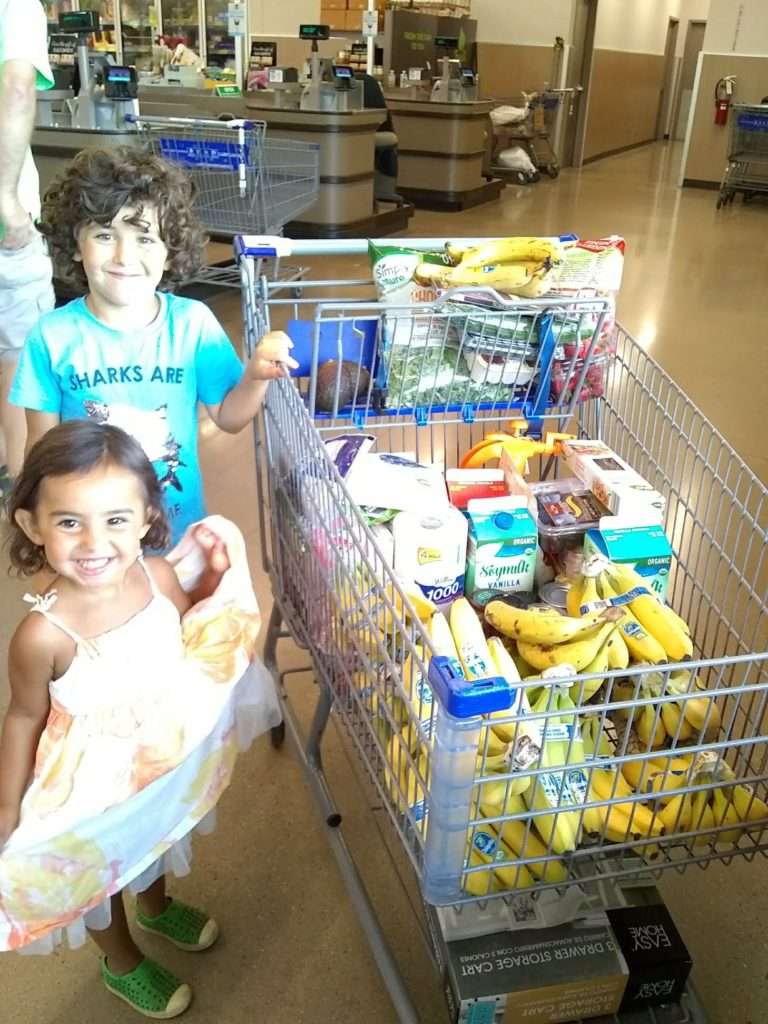 So what are we even eating? How are we not bored to death eating the same things all the time?
This is actually a major theme of the presentations we give at plant-based events, and some things I always point out are:
For the majority of human existence we've had a limited regional/seasonal diet. This held true even very recently for some of the world's longest lived populations like Okinawans, who got about 80% of their calories from sweet potatoes alone.
Creating good habits is about repetition. Most of us need to be on autopilot regarding healthy eating so that it's not a source of stress or extra work, for it to be sustainable.
"Comfort food" doesn't have to mean indulgence. It can mean what is familiar (see #2).
Meals
Breakfast is always oatmeal. It's cheap, it can be kept in bulk containers, and there are a million ways to vary it. Derek has his with diced apples while I prefer chopped dates, walnuts, and berries. The kids like unsweetened fruit jam, berries, and soymilk in theirs. On the weekends there is a special, celebratory oatmeal with cocoa powder, peanut butter, and banana!
Oatmeal is all about the toppings, and that's kind of a theme with us: the bulk of every meal is the same simple food, but there's that extra 10% that makes it special. Miles, our 6 year old, gets up and prepares his own breakfast, and sometimes even his little sister's, and it's obvious that he really enjoys assembling and mixing all of it, simple and wholesome as it is. My memories of childhood breakfasts, on the other hand, involve removing wrappers off from chocolate pop tarts. Which of us is the deprived one, I wonder?
Lunch always features a giant romaine salad, usually with tofu, and lots of fresh herbs, spices, and toppings! Herbs and spices have a ton of antioxidant activity, so adding them is a very cheap and easy way to boost the nutrition of any meal. We also grow and forage purslane to add to salads, which is basically so easy to grow it's considered a weed. You probably walk by it all the time growing out of cracks in the sidewalk, never knowing it's extremely rich in omega-3 fatty acids and antioxidants. Well now you do!
And yes, the kids are expected to eat salad, including 2 year old Maxine.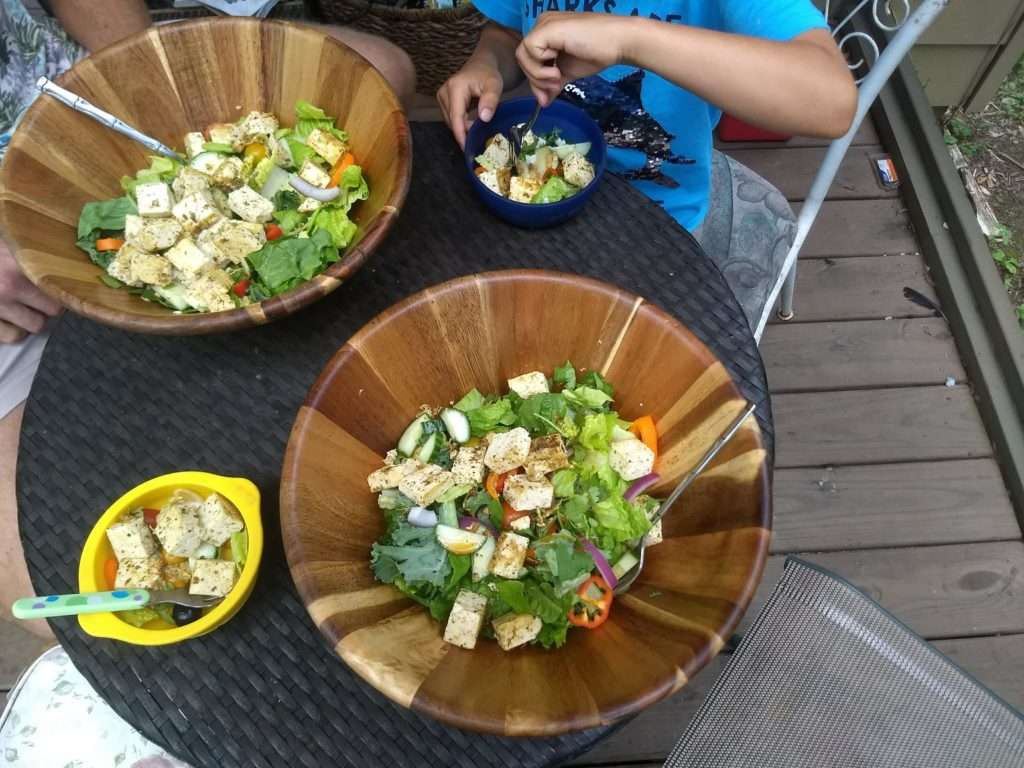 After the salad come plain baked or microwaved potatoes. Organic, because conventional potatoes and sweet potatoes are sprayed heavily with fungicide. Potatoes with a teeny bit of salt are so simple, but so comforting, too!
Afternoon snack is always banana-based ice cream, though the flavors change from daily. Check out the link (we've even done sweet potato pecan ice cream in fall).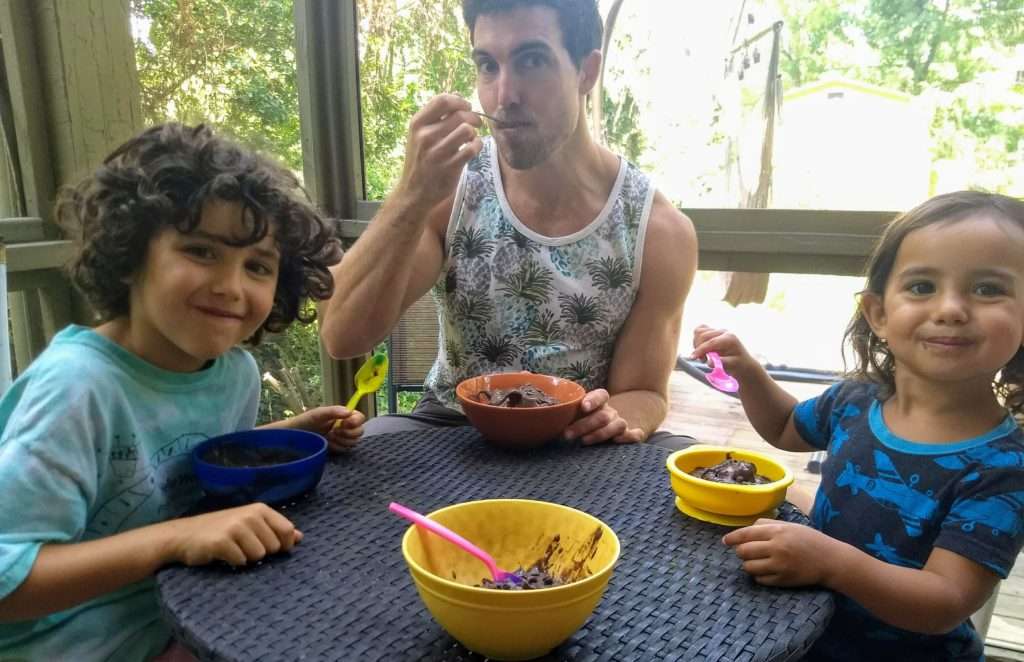 Next is SECOND afternoon snack: the famous BEAN SHAKE. This is where a lot of extra nutrition gets in for all of us. It's got cannellini beans, a variety of greens, mixed berries, turmeric, banana, cocoa powder, walnuts, and more.
Dinner varies daily, but follows the same weekly framework. Here's a breakdown:
Whole wheat pasta with a 2:1 ratio of veggies to pasta, jarred tomato sauce, and beans or vegan meatballs. Super easy: I just add two 10 ounce bags of organic frozen vegetables to the boiling pasta when 5 minutes of cook time are left. Add sauce. A good meal for busy nights.
Sweet potatoes and lentil soup or Gardein chickenless tenders
Beans, rice, vegetables, and avocado a million ways. Our favorite is Chipotle sofritas style.
Thai takeout at less than $25
Ethiopian takeout at less than $25
Culinary creativity day. This is the random one day of the week when I have energy and time to do something new. Sometimes it's homemade veggie burgers, or homemade Ethiopian, vegan tamales or tacos, whatever.
That's the overview! Another thing we do, that I realize not everyone has the space or time for, is grow and forage a lot of food.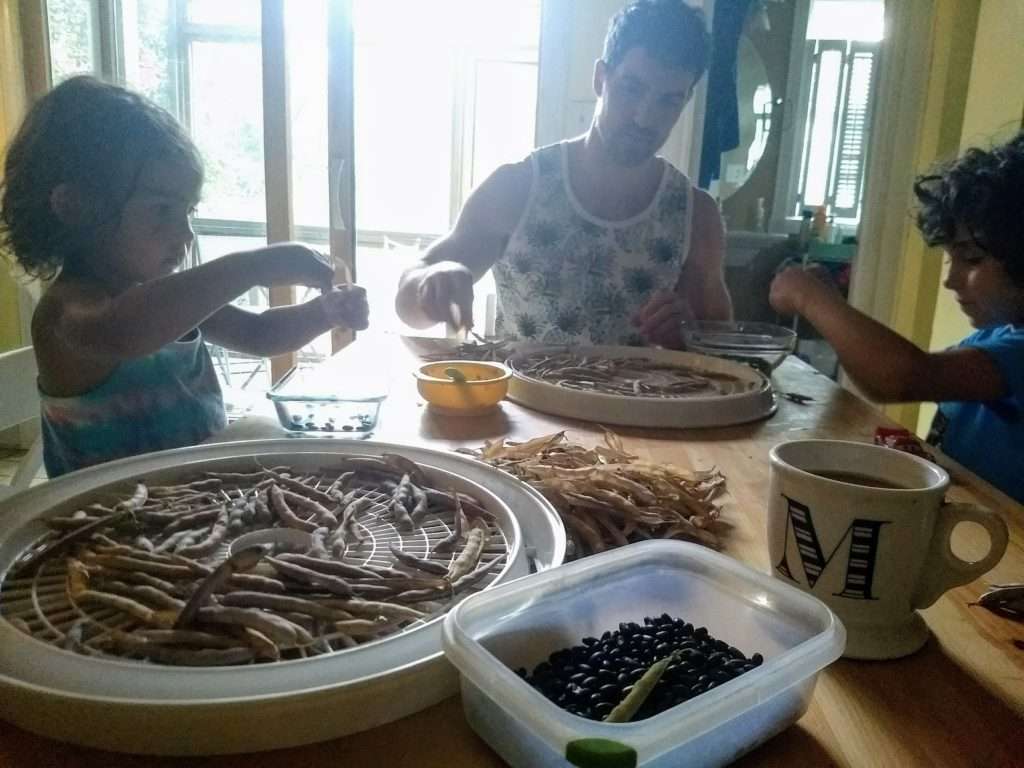 Here we are all shelling beans on a Sunday morning. I know everyone thinks of summer tomatoes and zucchini, but I'm generally thinking of foods for storage to eat year round when I garden: sweet potatoes, popcorn, wheat, beans of many kinds, garlic, fruit for freezing. Also fresh greens. Homegrown food, especially heritage varieties, have far, far more vitamins and minerals than store bought – especially if you're careful to compost and otherwise steward the soil. I use an actual vegan fertilizer and a mostly biointensive method of mini-farming…all of that is really it's own post for another day! Some resource links are listed below if you're curious (we get a small commission from Amazon if you choose to buy anything, by the way).
Vegan fertilizer:
Gardening:
Keeping our diet consistently the same and simple overall saves hours weekly, saves a lot of money, and saves a LOT of stress. Do YOU have any strategies that you use to keep it simple or save money on plant-based groceries?


[ad_2]

Read More